Residential Service – Furnace and Air Conditioning – Repair and Replace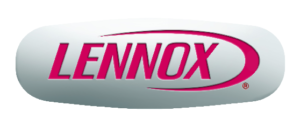 Premium Service – Premium Products – Premium Satisfaction

Radian Home Comfort Service Division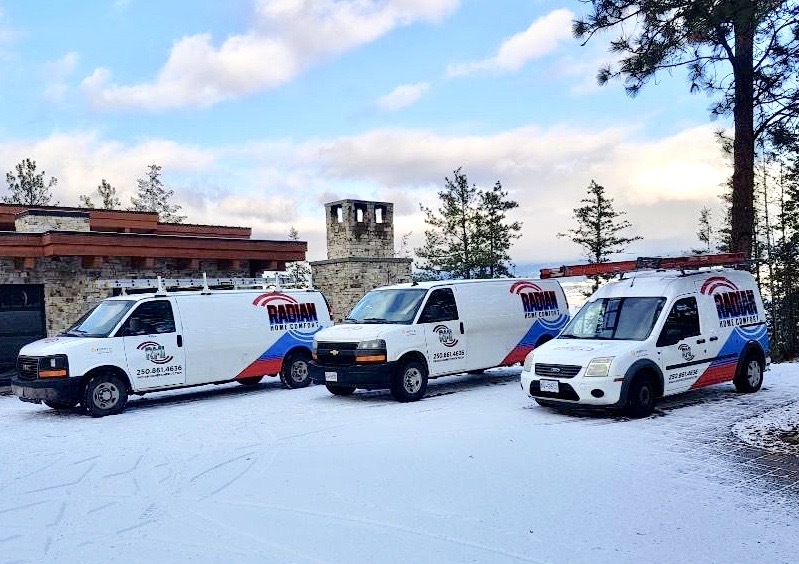 The HVAC system in your home is arguably one of the most important and one of the most expensive components.  Heating and cooling keeps your family safe and comfortable during extreme weather.
Are you looking to spend less on energy bills and improve efficiency?  It may be time to upgrade your old furnace and air conditioning to a new high efficiency model.  Not only will you save on your energy bills, but you will likely qualify for rebates through Fortis BC.
The Radian Home Comfort service division offers repairs, service and new installation.  We will be honest and upfront with the expected costs and give you different options to help you make an informed decision that you can feel good about.  Please contact us for a free consultation.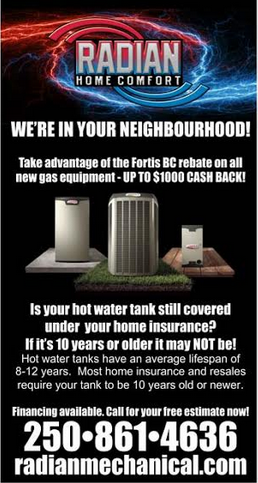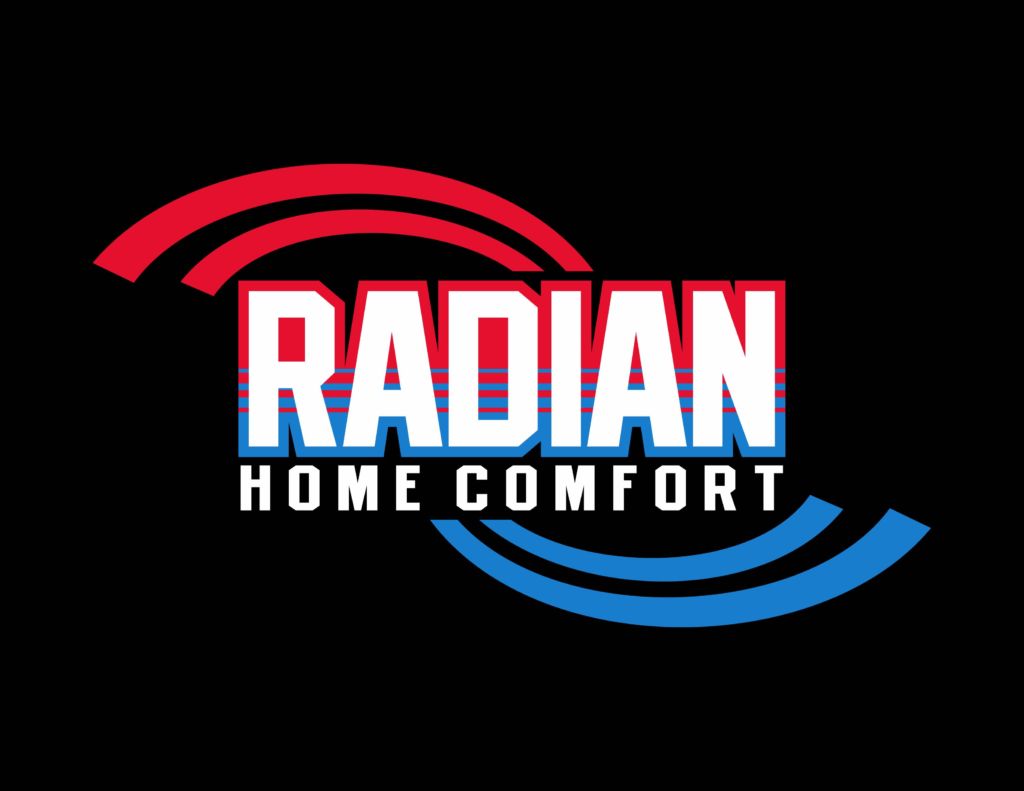 That's the best kind of advertising.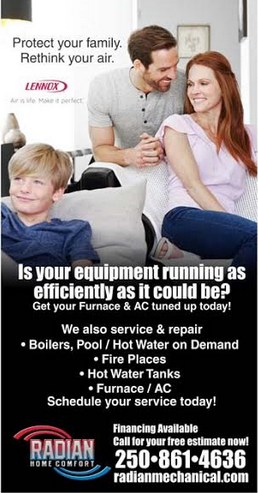 Please include information on your project and one of our technicians will be in touch within one business day.
AC repair or service, Furnace repair or service, AC install / new AC, furnace Install / new furnace, residential furnace or AC, hot water tanks,  hot water tank  service, hot water tank repair, hot water tank install, install, Fire place service / repair, Hot water on demand / service / repair, Pool boiler repair / service
**
Combined Rebate & Financing Legal:
*This offer is available through participating Lennox® dealers. Promotions are offered to the homeowner at the discretion of the Lennox dealer. Only equipment and systems listed on promotion are eligible for this offer. All products and offers are subject to availability. Offer valid on purchases of qualifying equipment between September 7, 2020 and November 27, 2020. The sale of equipment to the homeowner must be within the promotional dates to qualify. System installs need to be completed by December 4, 2020. Claims must be entered online www.lennoxconsumerrebates.ca with all required documentation by December 18, 2020. Claims and/or paperwork will not be accepted after December 18, 2020. Claims may not be submitted prior to equipment installation. This offer applies to residential installations only. Commercial installations, homebuilder or contractor purchases for new construction, homeowner upgrade through home builder or contractor, installations in multi-family dwellings or any dwelling other than a single-family residence do not qualify for this offer. All information requested is required. Incomplete, illegible or late submissions will be denied. Financing credits will not be issued for denied claims. Lennox reserves the right to request additional information to validate a claim. Lennox reserves the right to inspect any installation that is a part of this program. Consumers can redeem only one of the promotional offers per serial number sold. All required back-up paperwork must be submitted to 360insights online at www.lennoxconsumerrebates.ca. Lennox is not responsible for lost/missing paperwork. Submission will not be accepted for retailers, clubs, organizations, wholesalers or contractors. This offer can be combined with special financing as advertised on lennox.ca. Multiple qualifying products may be sold within an individual family or household. Purchase of equipment must be made by the individual receiving the Rebate. Rebate is paid in the form of a Lennox Visa® Prepaid card. Please allow 2-4 weeks for Visa® Prepaid card processing after claim has been approved. Claims paid on returned products may be subject to reversal. Use your Visa® Prepaid card anywhere Visa® cards are accepted worldwide. The Visa® card is issued by Peoples Trust Company pursuant to license by Visa® Int. Trademark of Visa® International Service Association and used under license by Peoples Trust Company. Pay close attention to the expiration date of the card. See Cardholder Agreement for additional details.
By providing your information for the rebate, you are signing up and agreeing to receive correspondence or notifications from Lennox by text or email. You can unsubscribe at any time. This is subject to the Lennox Privacy Policy, which can be found at http://www.lennox.com/legal-privacy.asp. Please see our Privacy Policy for more details about how we manage your personal information.
© 2020 Lennox Industries, Inc.