BE A YARDSTICK OF QUALITY.  SOME PEOPLE AREN'T USED TO AN ENVIRONMENT WHERE EXCELLENCE IS EXPECTED

-Steve Jobs
For over 30 years Radian Mechanical has been a leader in commercial plumbing, sheet metal and refrigeration in BC and Alberta.  Our head office is located in Kelowna BC, where we have a team of over 65 employees.  We have the capacity to service numerous mechanical projects as a design build or standard bid/spec tender.   Knowledgeable office and field staff allow us to maintain project schedules while delivering outstanding quality.
With decades in the industry comes a rollercoaster of economies, we've been through boom times and also survived multiple downturns.  It's during these shifts we have cemented our company values and implemented systems and efficiencies to satisfy the needs of our clients and our team.
Relationships with our clients, suppliers and employees are paramount.
Providing value for investment.
Quality is the best advertising.
Experience counts.
Skills can be taught, but attitude and work ethic are engrained.
Flexibility is key.
Safety can never be taken lightly.
Do it right the first time.
BCCSA COR Safety Certified
Radian Mechanical has completed certification for the BCCSA COR safety program. COR is Canada's leading customer-driven health and safety program. We take safety very seriously and ensure all our staff are completely training in all aspect of their duties.
To strive to provide our customers with a marriage of the highest quality mechanical installation and service for the best available value; while supporting the service with professional, fast, and efficient project management and office support.
Our diverse ownership group ensures that we have invested parties on site and in the office to make quick decisions, eliminate delays and ensure quality.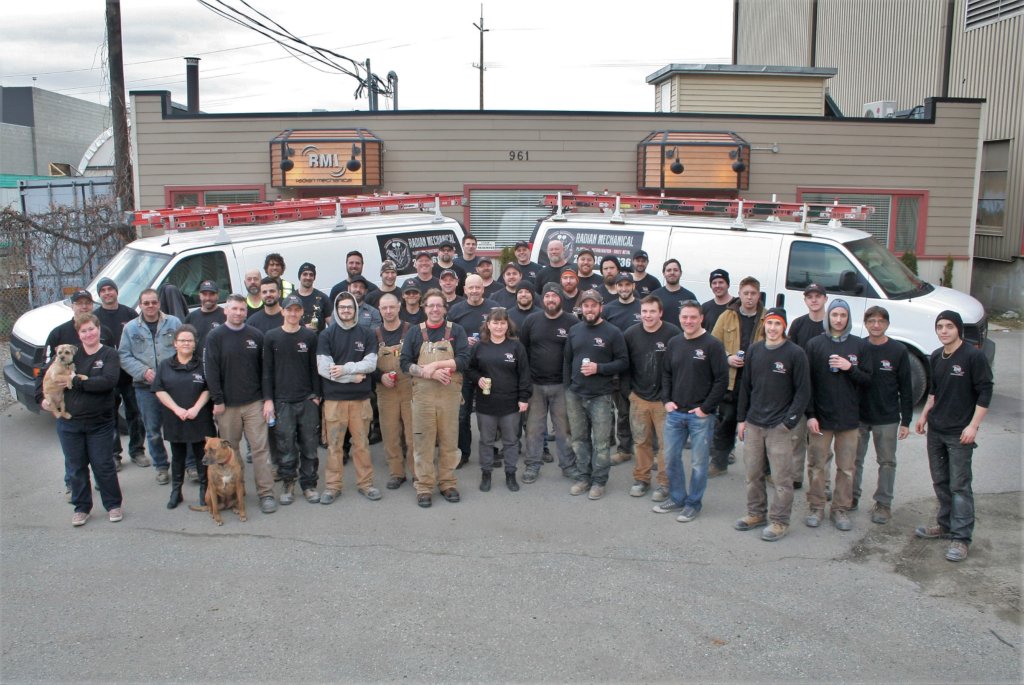 With a team of 65 skilled tradesmen, apprentices, project managers and highly qualified office staff, Radian Mechanical has the manpower to handle multiple projects at one time.
Traine Construction and Development have built more than 5000 multi-family homes throughout western Canada. Building in many regions means partnering with new sub-contractors from time to time.  Traine started preparing to build in Kelowna approximately two years ago and finding a Mechanical and HVAC contractor such as Radian Mechanical Inc has been a great experience.  
Radian Mechanical has now been working with Traine Construction over the last two years and continues today with over 400 multi-family homes completed and working on more.   Radian Mechanicals team brings the expertise, quality and hard work that makes them a great asset to any project.  Radian Mechanicals team approach makes everything run much smoother on a large project with so many moving parts.  The Traine Construction team will continue to enjoy working with the Radian team to create great projects. 
Project Management Team
Traine Construction